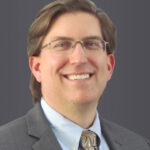 Daren J.L. Bergman, D.P.M., FACFAS
I enjoy working with patients to develop a treatment protocol that enables them to return to their daily goals.
Dr. Bergman joined Orthopedics New England in 2020 and is a native of Bourne, Massachusetts. He received his Bachelor of Arts degree in Biochemistry from Saint Anselm College in Manchester, New Hampshire, and obtained his Doctor of Podiatric Medicine degree from Ohio College of Podiatric Medicine (KSUCPM) in Cleveland, Ohio. Dr. Bergman continued his education with a residency at MetroWest Medical Center PM&S 24 as a Chief Resident. He also completed a fellowship in Reconstructive Foot and Ankle Surgery and Research under the direction of Lowell Weil, Jr. at Weil Foot & Ankle Institute in Illinois.
Dr. Bergman has been an attending Podiatric Surgeon at Mount Auburn Hospital's PM&S 36/RRA Residency Program for the past four years. He also served as Massachusetts Podiatric Medical Society's Board of Trustees Member from the years 2013 to 2017. Since 2015 he has been the American College of Foot and Ankle Surgeons Secretary/Treasurer of the Northeast Region (Division 8).
For patients with bunions, he performs Lapiplasty®, an innovative 3D bunion correction system that has reinvented our approach to treating bunions.
When he is not seeing patients, Dr. Bergman enjoys spending time and travelling with his wife and two children. On the weekends he can typically be found in a hockey rink or on the sidelines watching his children participate in their athletic endeavors.

Dr. Bergman is certified by the American Board of Foot and Ankle Surgery.
About Lapiplasty® 3D Bunion Correction:
Dr. Bergman is one of the select few Doctors of Podiatric Medicine in the Boston area who performs 
Lapiplasty
 to treat bunions. Bunions are complex deformities caused by an unstable joint. Now Lapiplasty, a new innovative 3D bunion correction system, has reinvented our approach to treating bunions. This treatment option addresses your bunion in three dimensions to correct the root of the problem. Advanced fixation technology secures the correction in place, allowing for immediate weight-bearing after surgery instead of the typical 6-8 weeks of non-weight bearing and crutch use that patients usually have to suffer through. There is an overall faster healing time post-surgery and a lower recurrence rate because the root issue is being targeted and fixed the right way, the first time. The recurrence rate is 2-3% versus the traditional bunion recurrence rate of 20-40%.
Dr. Bergman has been recognized and awarded with:
Mount Auburn Hospital PM&S 36/RRA Residency Program: Podiatric Surgery Residency Attending of the Year, 2016-17
Dr. Bergman's Memberships:
American College of Foot and Ankle Surgeons
American Podiatric Medical Association
Massachusetts Podiatric Medical Society
Meet Our Physician Assistants
At Orthopedics New England, our physician assistants work closely with our physicians to provide the highest level of care for our patients.