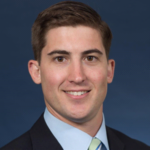 Alleviating pain and restoring the mobility and function that allows people to carry out the active lifestyles they desire brings me great joy- it is what drew me to medicine and the field of orthopedics.
Dr. Ramsden is an Orthopaedic Surgeon specializing in hip and knee replacement. A native of Northampton, Massachusetts, he attended the University of Massachusetts-Amherst, where he was a member of the varsity football team and obtained his Bachelor of Arts degree in Biology with the highest honors. He then earned his medical degree at the University of Massachusetts Medical School in Worcester and subsequently completed a residency in Orthopaedic Surgery at Tufts Medical Center in Boston. Dr. Ramsden completed the Otto E. Aufranc Fellowship in Adult Reconstructive Surgery at the New England Baptist Hospital following his residency.
Dr. Ramsden serves as Assistant Clinical Professor at Tufts University School of Medicine. His clinical interests include minimally invasive anterior approach total hip replacement, total knee replacement, partial knee replacement, and revision hip and knee replacement.
When he is not seeing patients, Dr. Ramsden enjoys spending time with his family, traveling, golfing, hiking, and reading.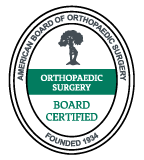 Dr. Ramsden is Board-Eligible by the
American Board of Orthopaedic Surgery.
Dr. Ramsden's Memberships:
American Academy of Orthopaedic Surgeons
American Association for Hip and Knee Surgeons
American Medical Association
Massachusetts Medical Society
Dr. Ramsden's Recent Publications:
Atanda AA, Oni JK, Ramsden DM, Yoon RS, Ahmad AA, Otsuka, NY. The Prognostic Value of the Radiologic Appearance of the Navicular Ossification Center in Congenital Talipes Equinovarus, THE JOURNAL OF FOOT AND ANKLE SURGERY, JANUARY 2015
Meet Our Physician Assistants
At Orthopedics New England, our physician assistants work closely with our physicians to provide the highest level of care for our patients.